The Deimon Devil Bat (Small) has a personality opposite that of
Hiruma
. He is more like
Sena
, who does (more or less) everything that Hiruma orders him to do, and in this way, the
Deimon Devil Bat (Big)
orders the small bat for many investigations.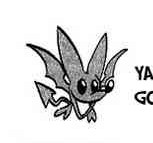 He is initially seen in a " commercial" prior to the Deimon/Seibu game and is basically just a smaller, cuter version of the Deimon Devil Bat (Big).
Ad blocker interference detected!
Wikia is a free-to-use site that makes money from advertising. We have a modified experience for viewers using ad blockers

Wikia is not accessible if you've made further modifications. Remove the custom ad blocker rule(s) and the page will load as expected.