Ohira (left) and Onishi (right)
Character information
Rōmaji
Ōhira Hiroshi
Ōnishi Hiroshi
Kanji
大 平洋 (Ohira)
大 西洋 (Onishi)
Height
204 cm (Onishi)
205 cm (Ohira)
Status
Affiliation
Kyoshin Poseidon
Year
1st years
Jersey
31 (Ohira)
32 (Onishi)
Position
Linebackers
Team
Kyoshin Poseidon
Debut
Chapter
Chapter 119
Voice actors
Image gallery
Ohira Hiroshi (大 平洋, Ōhira Hiroshi) and Onishi Hiroshi (大 西洋, Ōnishi Hiroshi) are a pair of first-year linebackers for the Poseidon and are the two tallest high school American football players in Japan, at 205 and 204 cm respectively. They have shared an intense rivalry since childhood, and each claims to be Kakei's first disciple. During the ensuing argument, Ohira tends to become overly emotional and break out into tears. They address Kakei as "sensei" despite his being in the same year as them, and their actions are generally foolish. However, despite not being as good as Kakei, they are skilled in the use of the techniques he has taught them, and together all three, along Mizumachi form the Poseidon's "High Wave" defense strategy.
They met each other when trying to decide who was taller. They argue about who's better at useless things, like how many all-nighters they pulled, or how little they studied for tests. After they saw Kakei play in an American football game, they joined the club in order to decide who was the disciple.
Ohira Hiroshi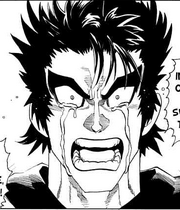 Ohira is the tallest player from Kyoshin Poseidon, standing at 205 cm. Ohira has black spiky hair, along with spiky bangs that's always on the outside of his helmet. Ohira tends to become overly emotional and breaks out in tears a lot, especially when arguing with Onishi about who was Kakei's first disciple.
Ohira likes old fashioned clothes.
Onishi Hiroshi
Onishi is the second tallest player on the team, standing at 204 cm, only 1 cm shorter than Ohira. Onishi has short yellow hair and wears black glasses. He also has a very pointy nose.
Onishi uses scented shampoo and, for some reason, he seems to refer so himself as 'me'.
Relationships
Each other
Shun Kakei
Player data
Ohira Hiroshi
Height = ★★★★★
Power = ★★★
Speed = ★★
Technique = ★
Onishi Hiroshi
Height = ★★★★★
Power = ★★
Speed = ★★★
Technique = ★★
Trivia
The kanji used in Onishi's name are the same as the ones used for the Atlantic Ocean, and the kanji in Ohira's name are the same as those in the Pacific Ocean.
Ad blocker interference detected!
Wikia is a free-to-use site that makes money from advertising. We have a modified experience for viewers using ad blockers

Wikia is not accessible if you've made further modifications. Remove the custom ad blocker rule(s) and the page will load as expected.