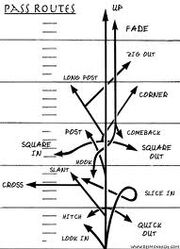 {{{character name}}}
{{{image}}}
Character information
Status
Debut
Voice actors
Image gallery
During the series Eyeshield 21, the members of the team were forced to learn Pass Routes. Pass Routes are important in the game as once you have memorized the routes you can easily travel along them and receive the ball from the Quarterback.
Pass Routes
Ad blocker interference detected!
Wikia is a free-to-use site that makes money from advertising. We have a modified experience for viewers using ad blockers

Wikia is not accessible if you've made further modifications. Remove the custom ad blocker rule(s) and the page will load as expected.