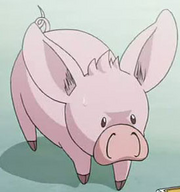 When Komusubi ran away, Doburoku went on an epic journey to find him. Not realizing that Komusubi had stayed in Tokyo, he went far afield, without a cell phone or any way for the team to tell him that Komusubi had been found. When Doburoku finally returned, dazed and drunk, he had with him a piglet; which he thought was Komusubi.
This piglet, being too far away from home, stayed at Deimon. Cerberus would have made Pig-Berus into tonkatsu, but Pig-Berus saved himself by pointing out that he would make a much better meal when fully grown. Pig-Berus is now a mascot and cheers alongside Cerberus.
Ad blocker interference detected!
Wikia is a free-to-use site that makes money from advertising. We have a modified experience for viewers using ad blockers

Wikia is not accessible if you've made further modifications. Remove the custom ad blocker rule(s) and the page will load as expected.