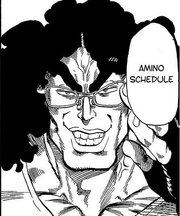 (青柳卓 Aoyanagi Suguru) He used to be a scrawny student, very similar in appearance to Weird Al Yankovic, until he took the Amino training program for six months, which gave him an incredibly muscular body. He thinks himself unstoppable until he is defeated repeatedly by the linemen of the Devil Bats. He is the only member of the Cyborgs to enjoy the cheerleading captain Hakui's harsh treatment.
Position: Lineman
Jersey Number: 64
Ad blocker interference detected!
Wikia is a free-to-use site that makes money from advertising. We have a modified experience for viewers using ad blockers

Wikia is not accessible if you've made further modifications. Remove the custom ad blocker rule(s) and the page will load as expected.